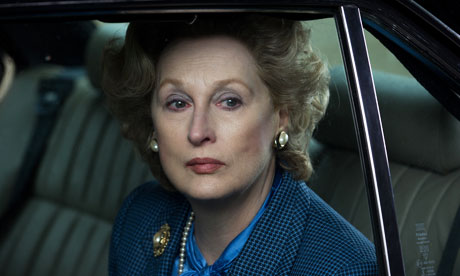 Directed by: Phyllida Lloyd
Screenwriter: Abi Morgan
Music by: Thomas Newman
Genre: Biographical drama
Main actors:
Meryl Streep as Margaret Thatcher
Jim Broadbent as Denis Thatcher
Olivia Colman as Carol Thatcher
Alexandra Roach as young Margaret Thatcher
Harry Lloyd as young Denis Thatcher
After a lifetime making the most difficult decisions for her country 'The Iron Lady of the west world' has to face the most terrible blow of her life.The corageous, strict, self

confident

and determined Margaret Thatcher fights agaisnt her worst enemy, herself,

who has

become an insecure and confused woman because of her illness. The film is a continuous flasfback to the most relevant events of her career and personal life during the late forties until

l

the present day. And it is set in Great Britain, especially in Grantham, where she grows up and starts to be involved in politics, and London, where her great worth is

recognized

at

last

.
The film is quite accurate according to the chronological order of the events and the real scenes adds realism and drama to the movie like, the annoyed and upsept British society on strike, the

Falklands

war and so on. In my opinion, this is an

entertaining

and thought-proking film and probably a bit moving. In conclusion, not only is the film worth a watch,

but

also Meryl Streep's superb performance

is

. As a result, she was awarded The Academy Award for the best actress in 2012.